Tuesday again, so
Taylor
is hosting: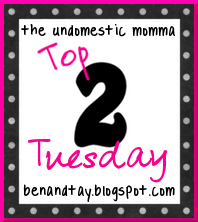 Top 2 things you cant live without
(ok....these are not my TOP2, I am not thinking along the lines of Ryan, Blake, family, faith, food, water, roof overe our head, etc.)
1. Lipstick/Lip gloss
I seriously HAVE to wear lipstick all of the time. My lips feel naked without something on them. I am not one for just clear chap stick either...I like color and shine! Lipstick makes such a difference in my appearance. I have pretty small lips, so they need a pop of color!! I typically where both stick and gloss at the same time...a bottom layer of lipstick and a top coat of shiny gloss!! I reapply frequently throughout the day!!

2. Caffeine!
I wake up and have coffee.....I drink coffee until lunch time, and then I switch to diet coke. Pretty much have caffeine ALL DAY LONG. I don't function well without it! I had a hard time when I was preggers for Blake...I had to switch to tea and caffeine free diet coke...just not the same!! I KNOW that I should be drinking water....but I just love my coffee and dc!!


Hop over here for more!!