It is time again for Top 2 Tuesday. This week the theme is Names...particularly baby names. We aren't in NEED to a baby name right now, but it is always fun to think about! We didn't pick Blake William's name until he was about 1 day old. We went in to labor with a few names in mind...but Blake wasn't really even one of them! We were thinking either Benjamin (Ben) or William (Will)....but we love Blake and think that it fits our peanut perfectly!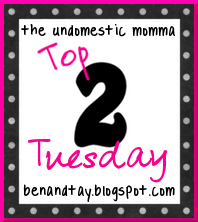 Top 2 Favorite Names
Here is what I think at the moment...and it changes very frequently! AND, Ryan and I have not really talked about these...so this is just me!!
1.) For a girl I like Chloe. I just think that it is such a cute name....
2.) For a boy I like Max. I have liked this name for a long time...but Ryan's fam had a dog named Max...so can I really name a child the same name as a dog (who is not deceased, by the way)?!
I think that boys names are harder. I love LOTS of girls names and a girl can fit into a "cutesy" name for her entire life. A boy has to have a cute name that grows into a manly name...you know?!?
Now, head on over to Taylor's blog and check out more!