No plans this morning, so we are just taking it easy. I made Blake some pancakes and sausage...me LOTS of coffee...and Livi is just chillin being cute as can be :)
Ryan slept in (ummm...we won't go into my jealousy issues about this...that is a whole different post). We are going out with friends tonight...so I am already pumped about that!!
What is your Saturday Morning Scene??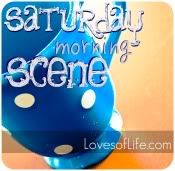 Head on over
here
and link up!