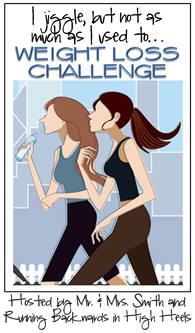 Well......this week wasn't as awesome as I was hoping for. It really wasn't that good at all. BUT....I was on vacation :)...and I went in the right direction....just not far in the right direction.
I lost 0.8 pounds this week for a total of 0.5% this week.
**Overall I have now lost 11.2 pounds since Jan. 19th for a total of 6.84%
I did lots of swimming on vacation, but not much other activity. I tried to watch my portion control and limit the snacking. I didnt do a good job tracking.
For this coming week I am going to try to focus on tracking my points and drinking more water!
...until next week...