It's time for another weight loss update!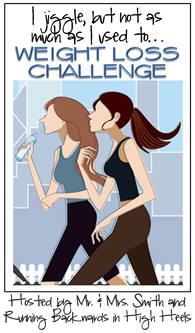 This week I lost 2.2 pounds this week for a total of 1.44% this week.
I have now lost 3 pounds during this challenge for a total of 1.96%!

**Overall I have now lost 13.4 pounds since Jan. 19th for a total of 8.18%

I am pretty darn proud of my loss this week. I hope that I can keep it up. I am now three pounds from being "free" at weight watchers, and 5 pounds from returning to my ww Lifetime goal!

This week I really worked on portion control. You really can eat anything you want...just in moderation. I also worked on not snacking after dinner. If I did need a snack I tried a zero point choice…fruits and veggies!

I still need to work on drinking more water. I plan on working on that this week. I also am going to track everything that I eat this week!

...until next week...