Today is the first day of the "I Jiggle, But Not As Much As I Used To" weight loss challenge hosted by
Rachel
and
Lindsey
. I am joining in! As many of you know I have been on a journey to lose the baby weight that I put on with Olivia. I have always been a fan of Weight Watchers. After having Blake I was able to shed 38 pounds following Weight Watchers in about 9 months. I was actually at a lower weight than what I was at when I got pregnant for Blake! I am on a mission to get back down to my lowest weight!! So here goes....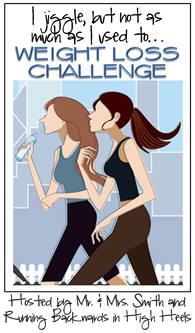 I have actually already started on this weight loss journey, so today I will post a re-cap of how I have done so far:
Start date 01.19.2011
Week 1 (01.26.2011): down 3.4 (2.08%)
Week 2 (02.02.2011): up 0.6, down 2.8 total (1.71%)
Week 3 (02.09.2011): down 0.4, down 3.2 total (1.95%)
Week 4 (02.16.2011): down 1.8, down 5 total (3.05%)
Week 5 (02.23.2011): down 0, down 5 total (3.05%)
Week 6 (03.02.2011): down 1.0, down 6 total (3.66%)
Week 7 – no weigh in
Week 8 (03.16.2011): down 3, down 9 total (5.49%)
Week 9 (3.23.2011): up 0.4, down 8.6 total (5.25%)
Week 10 (03.30.2011): down 1.8, down 10.4 total (6.35%)
Week 11 (04.06.2011): down 0, down 10.4 total (6.35%)
As you can see, some weeks have been better than others. I struggle with the same issues that everyone else does. Work full time, two babies, husband to cook for, no time to work out, etc. I HAVE to make this a priority for myself!
I still have 8.4 pounds to lose to get back to my Lifetime Weight Watchers Goal. I am motivated to get back to that goal, because then I am FREE again at Weight Watchers! At one point I was 5-6 pounds below my Lifetime WW goal...so in a dream world I will get back to that....but first I am focusing on these 8.4 pounds!
(That would be another 5.48%)
I am excited about this challenge and think that it will be the boost that I need! That being said, I am leaving for Florida with my family for vacation tomorrow....(excuses, excuses) so dieting is going to be hard....but I am going to give it my best shot each and every week!
Bring on the competition :)