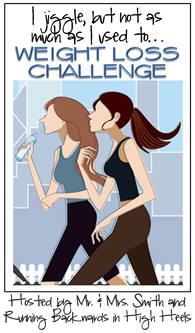 I did not weigh in last week for the 4th week of the Jiggle Challenge. It was a crazy week with Olivia down at the hospital for her surgery, being off of work with her, etc., etc. (excuses, excuses).....
This week I did go to weight watcher and I weighed in....
and I
gained 0.4
pounds! Boo.
I have now lost a total 2.6 pounds during this challenge for a total of 1.69%


**Overall I have now lost 13 pounds since Jan. 19th for a total of 7.94%


With only a few more weeks left in this challenge...and a few more week before swimsuit season, I need to kick my weigh loss into gear. I am setting a goal for myself to lose 1 pound per week for the rest of the month of May. I weigh in at WW each Wednesday...so I have until then to shed the next pound.
...until next week...