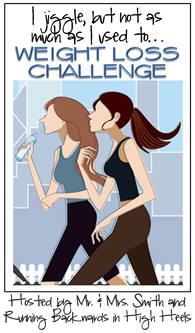 I can't believe that we are into the 6th week of the Jiggle Challenge already. Those past 6 weeks have flown by! I was hoping to have better results at this point...BUT, I am headed in the right direction...so that is good!
This week I lost 0.8 pounds (not quite the 1.0 I was aiming for). That brings me to 3.4 pounds during this challenge for a total of 2.22%
*As of today I have lost a total of 13.8 pounds since January 18th for a grand total of 8.42%.*
I am still aiming to loose a pound a week for the remainder of the month of May. Since I didn't reach that this week, I hope to loose 1.2 in the coming week to make up for my shortcoming!
We have walked to the park the past two nights....the warmer weather that we are finally getting will help me to be able to get outside with the kids and to get more active!
Until next week....