Tuesday again...so it's time for Taylor's Top2Tuesday!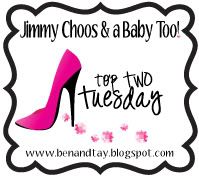 Top 2 Tuesdays
Top 2 Favorite TV Shows
This one is hard for me...because I have a LOT of fav tv shows!! But I narrowed it down to the top 2 at the moment :)
I have watched the Bachelor all along since the beginning. Some seasons are better than others...but I ALWAYS watch. This season is one of those that isn't so great...mainly b/c I think that Jake is a giant dork...but EVERY Monday I am glued to the tv :)


2.) Real Housewives of OC/NY/NY..etc. I watch them ALL...but the OC is my favorite. Although, the cast sure does change a lot fro season to season! haha....
Big Brother...can't wait until it is back on!
Survivor
Teen mom/16 and Pregnant
Amazing Race
American Idol
Top Chef
Project Runway
(you get the idea...pretty much all reality tv)!!