It's time again for Taylor's Top 2 Tuesday!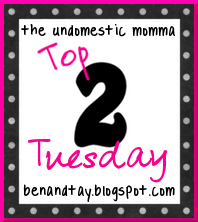 Top 2 items under $15
This is a fun topic for me...b/c I LOVE to get a good deal! My picks today are summer items...because I am SO ready for summer!!

1. Sunglasses from
Forever 21
. They are $5.80 per pair!! Amazing. They have LOTS of styles to pick from...and at a mere $5.80 each you can pick a few! This is good for me, b/c I love big shades, but I have a tendency to loose them...so pricey shades just do not work for me!!
2. Layering tanks from
Old Navy
for $5.99 each!! I wear these a LOT in the summer months. Usually 2 at a time...over my bathing suit and on the way to the lake. They are nice and long and super comfortable!!
OK....check out more steals
here
!!